Compact yet powerful design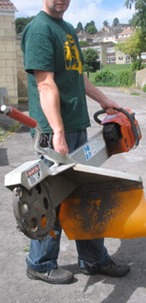 Our unique design enables grinding in situations once thought impossible to access.
Driven by the engine of a chainsaw, our grinder can be folded and carried through gaps which conventional grinders couldn't even contemplate! We can carry the grinder through your house if there is no other access to your garden. Stairs are no problem either, we go wherever the stump to be removed is. And if your stump is surrounded by precious plants, don't worry, they will not be damaged.
Conventional grinders 'footprint' is around 24x36 inches (6 ft2).
The 'footprint' of our grinder is 6x6 inches (0.25 ft2).
Our 'footprint' is only 5% compared to conventional.
SMALLER FOOTPRINT = LESS DAMAGE TO YOUR GARDEN